As we come closer to the start of a very exciting transfer window for Chelsea supporters, we take a look at a position where we will likely see a new player taking over from Emerson and Marcos Alonso.
Nicolás Tagliafico has been heavily rumoured as a top transfer target for Chelsea.. The 27 year old full back is currently looking for a move away from the capital city where he has spent the last two years earning a lot of praise for his performances in both the Eredivise and the Champions League.

Edwin Van Der Sar informed the press a few weeks ago that,"Last year, we made verbal agreements with [Andre] Onana, [Nicolas] Tagliafico and Van de Beek to stay another season, and then we look to help each other and find the next step in their careers. Nothing has changed", and the full back has attracted interest from a host of Europe's top clubs since then.

With a high profile move for Ben Chilwell looking increasingly unlikely with Brendan Rodgers ruling out any sale in the upcoming transfer window, Chelsea have reportedly reignited their interest in Nicolas Tagliafico according to Nizaar Kinsella of Goal. The fullback is available for a fee of 24.5 Million Euro's with Chelsea, Athletico Madrid and Manchester City all interested in signing the full back in the upcoming window. Lets take a look at why some of Europe's top clubs are interested in signing the fullback
From Argentina to Amsterdam
Nicolas spent the majority of his footballing career playing in the Primera Division, Argentina's top footballing league. His professional debut came at the age of 18 for Banfield and he made 90 appearances for the club. He was sent on loan to Real Murica who played in the second division of Spanish football during 2013; his first taste of European football. Nicolas made his move to Atlético Independiente in the year 2015 for an undisclosed fee. He captained the team to their first ever trophy in decades when they won the 2017 Copa Sudamericana beating continent rivals Flamengo in the finals. During his time at Independiente, he was tracked by a number of European clubs and his performances in 2017 earned him a move to Ajax in the 2018 Winter transfer window for 4 Million Euros. Tagliafico was integral to Ten Haag's Ajax as they won the 2018 Eredivise and ended the season with a very impressive run to the semi finals of the Champions league. As his time at Amsterdam comes to a close, he is looking forward to the next step of his professional career.
Player Profile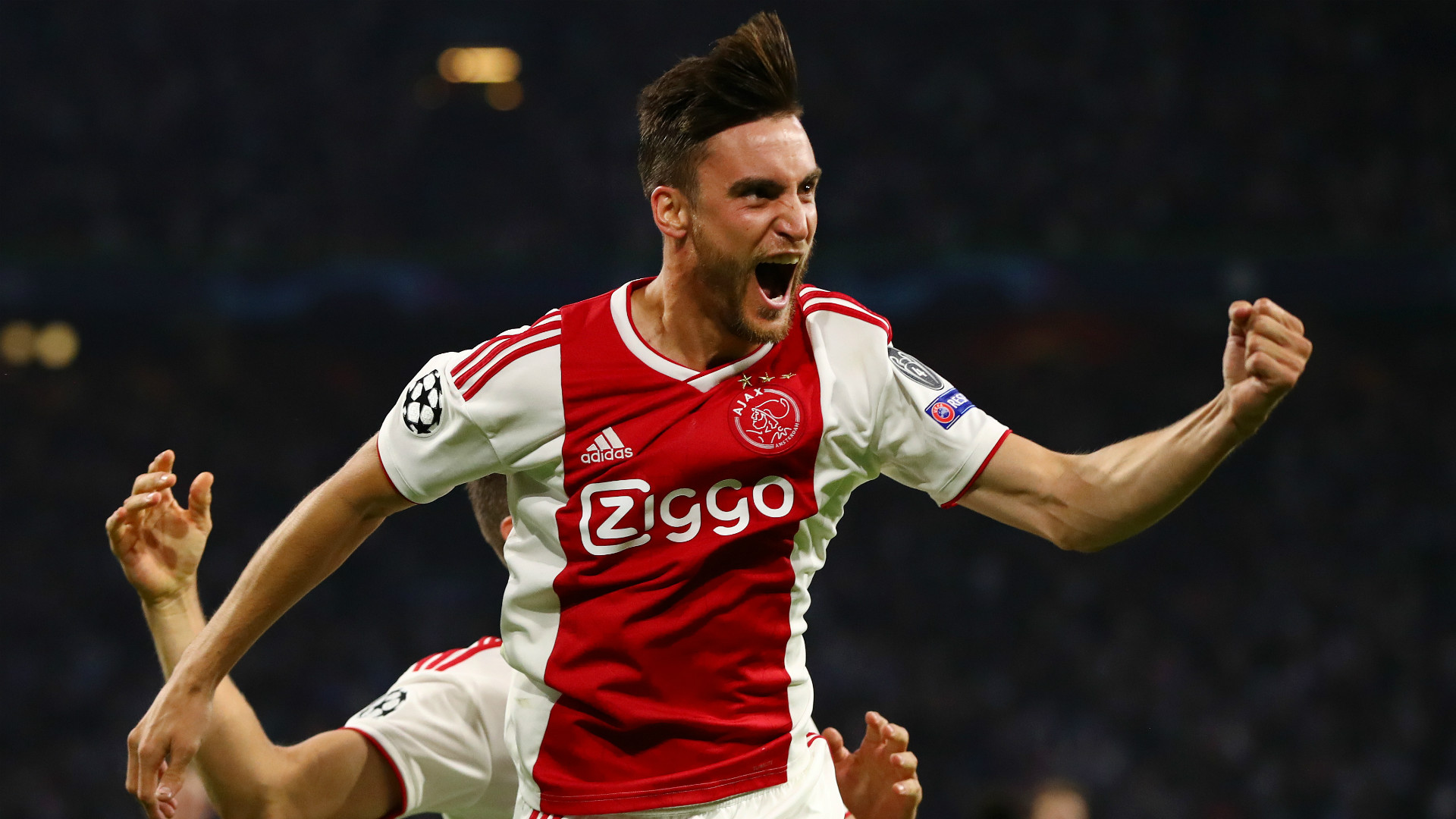 Nicolas Tagliafico is truly one of Europe's Elite full backs. He was often compard to former Banfield and Argentinian legend Javier Zanetti for his similiar style of play. Nicolas is a technically skilled, highly enterprising full back who has a whole lot of stamina. He is a modern day fullback who is excellent at both ends of the pitch, Nicolas backs his performances with important offensive and defensive contributions for the team. An excellent passer of the ball, he averages 1.1 key passes per 90 with a cross success rate of 26.3% per 90 averaging 0.7 crosses per game.

Tagliafico can bend the ball into the far post from the left and is very good at picking out his forwards who try to beat the offside trap or attack the half spaces. Nicolas has an excellent left foot and he occasionally takes driving shots from the edge of the box. He scored 5 goals and assisted 5 in 40 appearances across all competitions for Ajax last season. He had a season high average of 9 SCA (Shot Creating Actions) and 2 GCA (Goal Creating actions), a league high for left backs.

His defensive contributions set him apart from other elite fullbacks in Europe. Nicolas averaged 2.9 tackles, 1.9 interceptions and 2.4 Clearances per 90 last season in all competitions for Ajax. His defensive positioning is top notch and his recovery speed on transitions is one to look out for. Nicolas is press resistant, holds on to the ball and is very composed in defensive situations. Another important stat to note is that Nicolas did not commit any errors which lead to goals all season long for Ajax in the league, a testament to his experience in the role. He is also excellent at pressing the opposition and will be a good tactical fit to Frank Lampard's Chelsea
Nicolas Tagliafico vs Transfer Targers
Comparing him to another full back linked to Chelsea, Alex Telles, its quite clear that the Brazilian's attacking output is far superior. Nicolas is also statistically superior to England's no 1 Ben Chilwell, who is also out for the rest of the season. One can argue that Ben plays in a much superior league but Tagliafico backed himself to perform in the Champions league against some of the best clubs for two seasons. Robin Gosens is no longer linked to the club. What sets Nicolas apart are his defensive contributions, a particularly glaring weakness on Chelsea's left hand side.
Nicolas Tagliafico vs Chelsea's Fullbacks
Defensive contributions from Chelsea's fullbacks are at an all time low this season and this saw captain Cesar Azpilicueta play at left back for multiple games this season. Emerson averaged 1.6 tackles per 90 and Marcos Alonso averaged even lower at 1.3 per 90. The duo also averaged only 1.2 interceptions per 90 all season long. The duo have only managed to record two assists this entire season but Marcos Alonso has had some great performances as a left wing back in Frank Lampard's 3-4-3 system compared to Emerson who was poor in both positions for the club. Chelsea's left side was exploited in many of our losses this season and most recently at West Ham where Marcos Alonso was caught out multiple times on the break. Emerson managed to play against Leicester in the FA cup quarter finals but had a very average outing.
Will he make the move to Stamford Bridge?
Chelsea's interest in Tagliafico is nothing new. The club were interested in the left back for a very long time as an alternative to Ben Chilwell. Now that Chilwell may be priced out of a move, the club are looking at bringing in other big money signings in favour of the fullback, which has reignited the clubs interest in the Argentinian full back. His asking price in the current market seems like a bargain compared to our other targets and he ticks a lot of boxes for what Frank Lampard is looking for, experience in defence and a fullback who fits his system from a tactical perspective.

As reported yesterday by Nizaar Kinsella of Goal, Tagliafico can be signed for less than 25 million Euros with a number of clubs including Chelsea interested in his signature. Chelsea will be looking to offload Emerson who has requested a transfer voluntarily and is linked with a move to Inter Milan. This frees up a starting spot for Nicolas which may either see Alonso move to a rotational role or pursue his career elsewhere next season. The possibility of reuniting with former team mate Hakim Ziyech may also be a factor the fullback will consider when he decides his future. No official offer has been made at the time of writing the article and I expect that you will hear more about his future from transfer reporters once the window opens at the end of the week.

Nicolas Tagliafico can be a very smart signing by the club. A player who is an instant upgrade for the club at a very affordable price. Nicolas's transfer may also pave way for Ian Maatsen, another talented academy graduate into the first team who can then be eased into the team in a few years from now. He has been my number one left back target and a player I always hoped the club would sign. Will a move happen? Right now it's too soon to say but the indications are positive. One thing is certain that Chelsea are in the market for a new fullback and it can very well be Nicolas Tagliafico.
Edited by Enoch Eicher